This post brought to you by No nonsense. All opinions are 100% mine.
My lifestyle had drastically changed right after I had my first baby. Life is  not the same anymore, I got busier and doesn't have enough time for myself. When it comes to fashion, I prefer the easy and comfortable outfit that won't need a high maintenance. A T-shirt and a pants or  short pants are my favorite to wear. Those are very easy to wear and very comfortable. When fall and winter season comes, I wear tights and leggings too, but I just wear them plain under my jeans to keep my legs warm.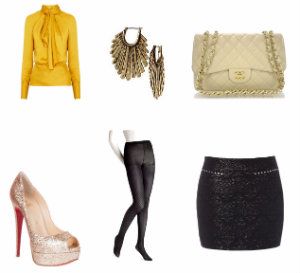 The other day, hubby told me that they are going to have a big party, and I have to look presentable and sexy! Oh boy, it has been a couple of years ago, when I last attended a big party. Definitely, a pair of tight is present in my outfit... I created an outfit that is sophisticated with a pair of No nonsense black tights. I am so excited with the outfit that I came up. I like everything about it. Crossing my fingers that hubby will love my chosen outfit. I'm glad that No nonsense tights and leggings can be found at food and drug stores as well as mass retail stores. No nonsense tights and leggings are affordable, every mom can surely fit this into their budget!
A big thank's to No nonsense tights and leggings as it enables women to update and change out any look with simply adding some stylish, colorful and affordable leg-wear. Like lipstick, tights can be a great statement piece to lift your mood and extend your wardrobe.
Jill Martin is partnering with "No nonsense" and is educating women on how to wear the new colorful tights and leggings! She is the brand Ambassador and style expert for launch of new tights and leggings, as the new ambassador Jill will be featured in a series of online vignettes that show women how to wear the latest trends that include colored tights and essential leggings.
She is very important in the fashion world  because she is the expert when it comes to fashion and "She is stylish, modern and knows how to make the most out of every outfit in her closet without spending a fortune." Jill Martin is also an Emmy Award-winning TV personality and co-author of the New York Times best selling style guide " I Have Nothing to Wear!" She is also the New York correspondent for access Hollywood.
You can also follow No nonsense on Facebook and Twitter @benononsense https://twitter.com/benononsense for special offers and style tips.