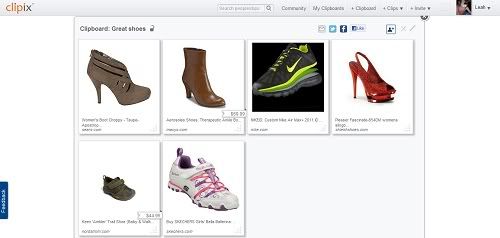 Perhaps, some of you as my regular reader to this blog probably knows that I already given birth to my adorable baby boy. Yes, our new bundle of joy. Cassandra my eldest love her baby brother and daddy is as happy as I am for having a baby boy in this family. Since everybody is happy, then mommy deserve a little reward and would be shopping. Honestly, I do need a new shoes because my feet looked weird and different when I was pregnant. I have already picked some shopping sites to buy a new shoes for me, for my daughter and for my baby. 
The image above are just a screen shot of the shopping sites that I have clip and saved. I have selected a few choices of shoes that I planned to buy either online or in store. I am still in my postpartum so I guess online shopping is the best way to do. By the way, the place where I clip all the following items is called clipix. Feel free to visit their website today and sign up so you will have your own clipix to organize your online life. 
All you have to do is add the clipix to your bookmarked pages and start organizing your online life. This is very useful tool for me as I do not have to stressed my self out remembering the website that is necessary to my online activity. I can organize the baby's milestones activity with clipix. It just makes our online life convenient and manageable. It lessen the time to browse, search or surf the new for your favorite books to read, shopping site, favorite recipes, and more because I can easily save the website to my clipboard. I can create a clipboard for my daughters school activity, baby supply and clothing, birthday party, and even appointments as well as developmental milestones of my new born baby. 
Just take a look at what I did with the shoes I want to buy. Doing this would save me more time to search it online. My hand is full and my day is always busy. Clipix is the definitely helpful and by far the best online tool ever created. I encourage you to try it out and let me know what are you going to use clipix for? Isn't it amazing? Leave your answer in the comment section of this blog post. Thank you and time to do some shopping!
Promoted Post